Introduction:
In the Samsung Galaxy Z Fold3 5G that was just released, we saw a lot of characteristics. Top-level hardware configuration, the addition of exclusive S Pen, and exclusive functions for efficient office work. But don't forget, Samsung Galaxy Z Fold3 5G also has a 7.6-inch immersive under-screen camera folding screen. Therefore, using Samsung Galaxy Z Fold3 5G to play games and watch movies is also a very unique experience.
Samsung Galaxy Z Fold 3 5G Price in Bangladesh:
Samsung Galaxy Z Fold 3 5G price starts from BDT. 225,999. Samsung Galaxy Z Fold 3 5G internal storage base variant of 12 GB Ram, 256 GB, 512 GB Internal Memory (ROM). Samsung Galaxy Z Fold 3 5G which is available in Phantom Black, Phantom Silver, Phantom Green color.
Daring Display: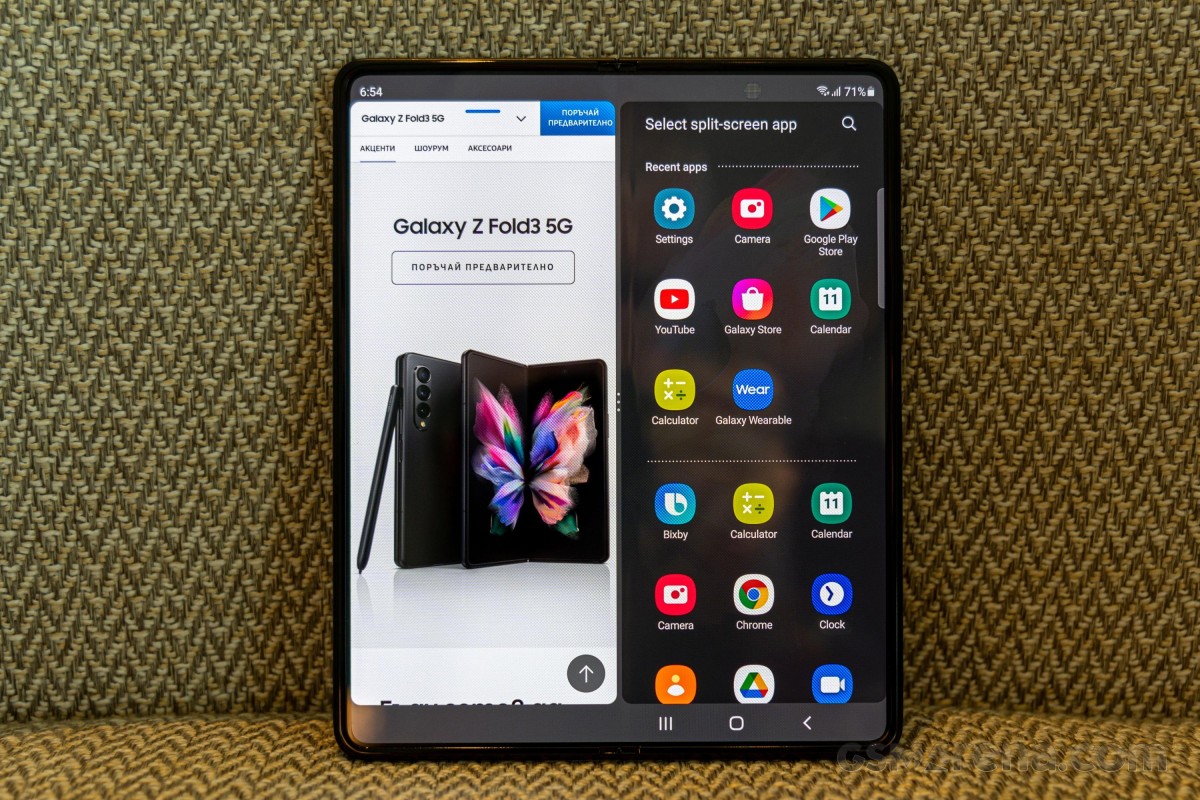 Experience fluid scrolling and swiping with Fold3 that has a Dynamic AMOLED 2X main screen display of 19.19cm (7.6″) and a cover screen display of 15.82cm (6.2″) with a refresh rate of 120Hz and weighs 271g. This mobile also comes with an Infinity Flex Display that can adjust to any angle. Fill your coffee cup and start watching your favorite series fullscreen as the in-display front camera disappears like magic the moment you start watching your show. Carry it around like  conventional smartphone, unfold and surprise your comrade.
Balanced Battery:
The Samsung Z Fold3 comes with 4,400mAh (typical) battery along with a 25W Fast Charger that adjusts its power usage. The phone automatically adjusts its power usage, so once fully charged, don't worry about your phone shutting down, as it will last you the whole day.
You're not ready for foldable phone revolution:
While we can happily recommend the Z Fold 3 to early adopters who've held off on buying a foldable phone, this is by no means fit for average consumers. It's still far too expensive, and it's impractical for the majority of phone buyers, even if it remains the neatest phone of 2021, one year on.
Double the screen space:
Smartphone screens have gotten bigger over the last few years, but they've reached a limit. Foldable are the only form factor that gets more screen from a pocket-sized mobile device. Galaxy Z Fold3 starts as a sleek smartphone, ready for simple work tasks that only call for a glance and a few taps. It then unfolds to a 7.6-inch, 120Hz display in landscape mode, providing an expansive workspace so you can read, create, focus and get more work done. With the first ever under-display camera, you get an uninterrupted screen from edge to edge.
Protected phone:
Do not worry about scratches on your phone anymore, as this mobile is made with the most robust Gorilla Glass ever- Corning Gorilla Glass Vectus. It also has an inbuilt e-sim and one physical sim card. Take it with you to the ocean and worry not, as the mobile is the first foldable phone in the world that is entirely waterproof. What are you thinking about?? Just make your phone dance to your moves.
Everything that you wish for is in one mobile. Don't wait anymore.
Run your business at full speed:
Business today is full speed ahead, and so is Galaxy Z Fold3. Download files in seconds, send emails in a flash and conduct video chats with virtually zero lag using 5G connectivity capable of tapping both Sub-6 and mauve spectrum bands. Alongside the need for speed, it's equally important to stay in charge rather than stuck to your charger. Z Fold3 has all-day battery power and 25W Super Fast Charging, so you can go fast and far without any technology constraints in your way.
Building safety:
Samsung wisely added stronger water resistance to the Fold3. That suits the device well, considering that its overall construction is also nicely done. From the hinge, and on to the metal surrounding the device, it's objectively good craftsmanship. But, as I noted earlier, it has a fragile side, too. This is an expensive phone to accidentally drop, and the cost to replace either screen is probably not something you want to deal with. For that reason, I advise investing in a case, and holding the device with extra care.
Samsung is committing to making phones fold. Above all, the Galaxy Z Fold3 is more of an experiment in fusing two devices (phone and tablet) into one concept. True, it's not as big as tablets generally are today, but the extra screen real estate is still sizeable. It wasn't that long ago that 7-inch screens were the norm for tablets.
Conclusion:
The only thing is whether or not you really need anything the Fold3 does. To me, the Galaxy Z Flip3 is a more usable concept because it only alters a familiar design. It's an ode to the flip phones of the past. Even for a young generation that doesn't remember those, the Z Flip3 is still easier to grasp. The Z Fold3, on the other hand, is much more of an adjustment, even if it has come down in price.
Tags: Check samsung z flip price & samsung z flip 3 review, samsung z flip 3 price, galaxy z flip3 5g, galaxy z flip3 bespoke edition.